Bottlegreen Lemongrass with Ginger Cordial 500ml
Dostępność:
Do 16 dni Maksymalnie
Wysyłka w:
Do 16 dni Kalendarzowych Maksymalnie
towar niedostępny
dodaj do przechowalni
Opis
An exotic blend of fragrant lemongrass and piquant ginger is delicious diluted with hot water on a cold winter's night. It also works wonderfully well when adding an extra bite and depth to stir fry's or salad dressings.
Only needs 1 part cordial to 10 parts water.
At bottlegreen we strive to capture the essence of the countryside in a range of exquisitely flavoured soft drinks. Using our wine-making skills, we blend a medley of carefully selected natural ingredients and Cotswold spring water to produce truly delicious cordials and pressés.
Ginger & Lemongrass cordial is... tangy and vibrant, combining fragrant lemongrass and earthy ginger; delicious mixed with hot or cold water.
Ginger & Lemongrass
Great ideas
Delicious when diluted with cold still or sparkling water, or for a warming alternative to tea or coffee simply dilute with hot water.
Bring it along to picnics, a friend's party (it's great with cocktails), or store it in the fridge for the whole fam
Store in a cool place away from direct sunlight. Consume within 1 month of opening.
Ingredients:
Sugar, Cotswold spring water, citric acid, natural extracts of lemongrass and ginger root, natural flavour. Preservative: Sulphur dioxide. No artificial flavours, colours or sweeteners. Nutritional per 100ml diluted 1:10 Energy (k joules) 124kj, Energy (k calories) 29kcal, Protein Nil, Total Carbohydrate 7.2g, Fat Nil, Sodium Trace.
Our Story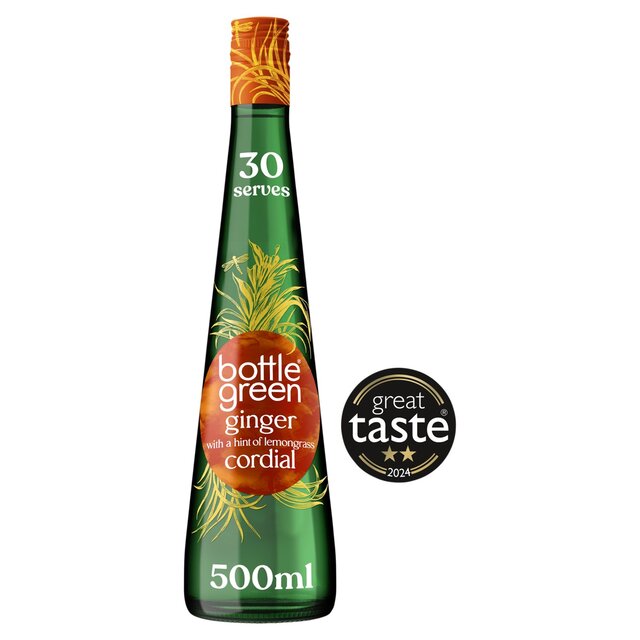 Started by husband and wife team Kit and Shireen Morris in 1989, bottlegreen has been making refreshing, clean crisp flavours for over 21 years.
Bottlegreen Drinks Co. has always believed in creating the finest and most natural soft drinks possible. Blending wonderfully sublime flavours into the most exquisite drinks is their one driving passion. It really is all about the taste. Bottlegreen Drinks Co. invites you to experience these delicate, subtle flavours for yourself in their award-winning and beautifully crafted drinks range.
Started by husband and wife team Kit and Shireen Morris in 1989, bottlegreen has been making refreshing, clean crisp flavours for over 21 years. They first planted vines to make delicious elderflower wine, but as they waited for them to mature, they started producing elderflower cordial instead. They made this in their kitchen sink and sold it at farmers markets and local delicatessens. 
The balance and blend of flavour was so popular they changed their plans and turned their dreams instead to making delightful bottlegreen products. The first supermarket to sell bottlegreen in 1990 was Waitrose and they haven't looked back since. 
With an ever growing product range, quality without compromise is still very much at the centre of everything they do. And thanks to you, Bottlegreen Drinks Co. are able to keep creating delightful drinks for you enjoy.